Keto Pumpkin, Chia and Flax Seed Cheese Bread
Loaded with pumpkin seeds, chia and flax seed, this bread has the crunch which seems to be missing from a lot of Keto foods. It's gluten free, low in carbs, has 8g protein per slice and is loaded with Omega 3 fatty acids. The cheese can be omitted if you want to lower the dairy. If you want to lower the oxalates in this bread, replace the chia seeds with ground pumpkin seeds.


In the photos, we have topped bread with our All Things Seasoning - omit if you wish (it's not included in the macros)
For this recipe, you'll need a 7 inch diameter baking dish.
Ingredients for 8 servings
• Sparkling water 320ml
• Ground flax seeds 100g
• Ground pumpkin seeds 50g
• Chia seeds 50g
• Gluten free baking powder 1tsp
• Psyllium Husk 15g
• Salt ½ tsp
• Cheddar Cheese 100g (grated)
• Butter 1 tbsp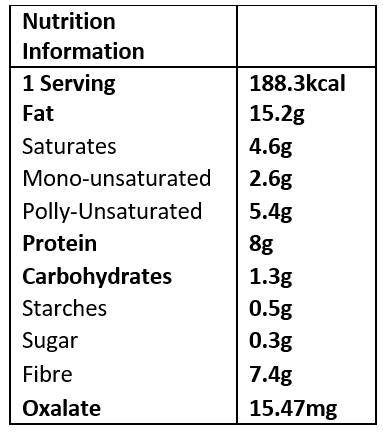 Preheat oven to 190c/180 fan/Gas Mark 5


Add all the dry ingredients to a bowl, making sure they are ground very finely - a coffee grinder will give you the desired texture.


Add the sparkling water and mix until it forms a dough. Kneed the dough until it firms up.


Rub butter around the baking dish to prevent sticking, then place dough into the dish


Bake in the oven for 30 minutes.


Remove the bread from the oven and put the grated cheese onto the top of the bread.


Return the bread to the over for another 10-15 minutes, or until the cheese is melted and golden brown.