Keto Turkey Chilli with Sour Cream and Chives
On cold nights getting home to some comfort Turkey chilli is perfect way to warm through. Lots of spices to add taste and some melted mozzarella on top. Bottom is layered with bacon cauliflower rice. Topped with jalapeno peppers, sour cream and chives. Perfect combination of flavours to warm your body through.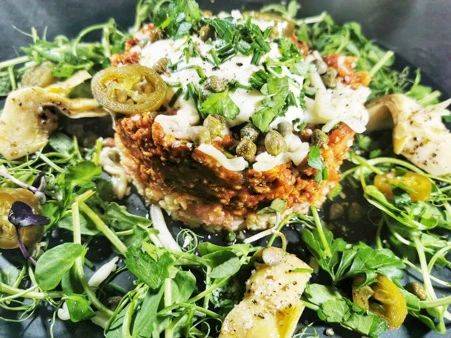 Ingredients for 4 servings
Turkey mince 500g
Shallot 2 tablespoons
Garlic 1 clove
Cauliflower rice 2.5cups (310g)
Bacon 3 ½ slices
Capers 3 tablespoons
Fresh chives 2 tablespoons
Parsley 3 tablespoons
Jalapeno peppers 10 small slices
Quartered artichoke hearts 4 pieces
Mozzarella cheese 1 ounce (28g)
Extra virgin olive oil 3 tablespoons
Avocado oil 2 tablespoons
Canned tomatoes 400g
Onion powder 1 tsp
Paprika 1 tsp
Chili powder 1 tsp
Salt 1tsp
Black pepper 1 tsp
Coconut Oil 1 tsp
Calories: 444
Fat: 29g
Total Carbs: 12g
Fibre: 3.7g
Net Carbs: 8.3g
Protein: 35.3g
Place cauliflower into food processor and blend until fine grade


Add pan to the stove and heat, add half the avocado oil


Add the garlic and chopped shallot


Brown the turkey mince


Add the remainder of the avocado oil and add the dry herbs and some of the fresh parsley. Season with some salt and pepper


Open the tin of tomatoes and stir on low heat for 15 minutes


In a separate pan fry a little coconut oil and brown the bacon.


Add the cauliflower rice and stir until cooked through approximately 5 minutes. Season with the remainder of salt & pepper


Using a layering tool place the cauliflower rice, bacon mix at the bottom and compress the mixture


Holding the layering tool in place add the turkey chilli on top, again press on the mixture until you have a solid layer. Gently remove layering tool.


Dress the chilli with sour cream, fresh chives, capers, Jalapenos and mozzarella.


Arrange the herb salad and dot occasional pieces of artichoke around the main centre piece.