Keto Saffron Spiced Fish Stew
This dish is perfect for when you want a change from red meat. It is a creamy fish stew spiced with chilli and saffron . I used monkfish which is very meaty, as it was on offer at the time. It's quite expensive so any other white fish cod or halibut will do, but always make sure you remove the bones beforehand.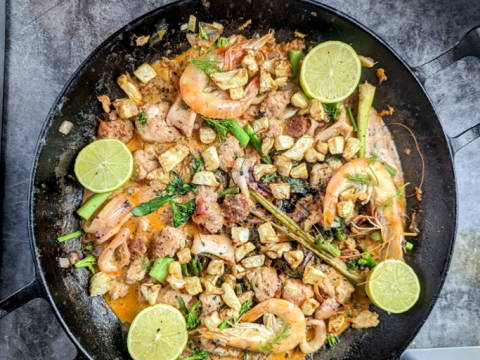 Ingredients for 4 servings
• Monkfish or other white fish 500g (remove bones)
• Chorizo 100g
• Squid (spine removed and cleaned) 300g.
• Prawns 100g
• White wine vinegar 3 tbsp
• Fish stock 200ml (made from tail bone and if using monkfish)
• Butter 3 tbsp
• Onion 55g
• Salt 1 tsp
• Pepper ¼ tsp
• Crushed chilli flakes ½ tsp
• Oregano 1 tsp
• Garlic 3 cloves
• Parsley to dress
• Double cream 200ml
• Ricotta cheese 2 tbsp
• Lime juice 2 tbsp
• Lemon grass stalk
• Broccoli 100g
• Saffron 1/8 tsp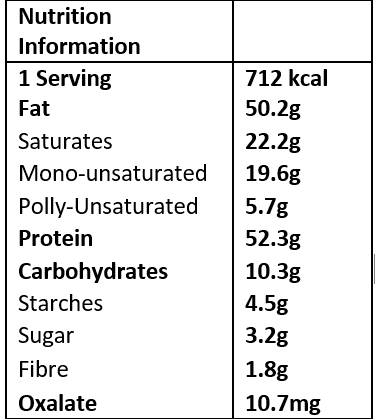 Prepare the monkfish and remove the spine to make the stock, this is the longest part of making the dish , you may want to use a keto friendly stock cube if using a different white fish . one prepped and chopped into bite sized pieces place to one side.


Making the fish stock: If using the monk fish tail bone melt the butter, some of the onion in the saucepan and add the oregano, some of the parsley salt & pepper, add the tailbone and the white wine vinegar and water.


Bring to boil and simmer for 30 minutes.


Pass through a sieve and put to one side.


Prepare the squid by removing the spine and guts, clean thoroughly and chop into bite sized pieces put to one side.


Take a large frying pan or large solid iron skillet and heat some of the oil you are using, here I use olive oil as didn't have tallow.


Fry the remainder of the onions & garlic until the sweat around 5 minutes.


Season the fish and squid with salt & pepper, add them to the pan adding the lemon grass stalk and chilli flakes.


Stir in the broccoli and chorizo.


Cook on low heat for approximately 10 minutes.


Blend together the ricotta cheese and double cream and add to the fish.


Stir in the stock add more salt & pepper and simmer for 20 minutes add the saffron.


Sit the prawns on top and cover the pan, place wedges of lime around the pan.


Serve hot, dress with parsley or coriander.