Fish cakes are perfect for dinner and for lunches. Use oily fish like salmon & mackerel which is more suitable for Ketogenic way of eating rather than white fish , serve with salad and some fresh lemon juice and capers.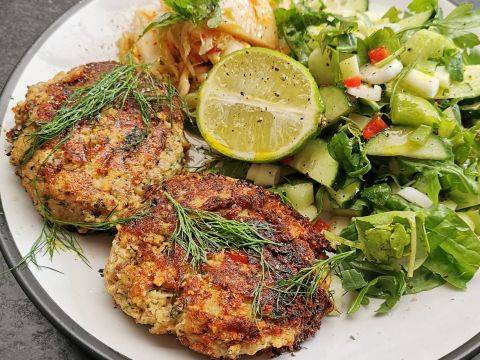 Ingredients for 8 servings
1 pound firm fish (cod, haddock, salmon, Mackerel)
2 Tablespoons parmesan cheese
½ teaspoon minced fresh garlic
1teaspoon Dijon mustard
3 tablespoons fresh parsley
1 egg
2 tablespoons coconut flour
1 tablespoon Worcester sauce or coconut amino's
Teaspoon of Ghee or avocado oil
Calories: 214 kcal
Fat :11.2g
Total :Carbohydrates :2.6g
Fibre: 1.3g
Net Carbs: 1.3g
Protein :25.7g
Chop the fish into pieces about 1/2 inch in size.


Combine the chopped fish, parmesan, egg (if using,) coconut flour (if using,) mustard, Worcestershire, fresh parsley , garlic, egg and parmesan cheese in a medium-sized bowl. Stir well until fully mixed.


Heat the oil in a non-stick sauce pan over medium high heat until simmering.


Form the fish mixture into 8 patties, about 2 inches in diameter.


Fry the patties in batches for about 2 minutes per side (turn gently,) or until golden brown on the outside and cooked through.