Keto Coconut Curry Shrimp
My Keto shrimp garam masala curry is perfect any evening of the week and your free to add more spice if you wish. I sometimes add a few chilli flakes to give that extra kick or cayenne pepper.
This dish is suitable for your main dinner and side with maybe some cauliflower rice. The side is not included in the macros so be cautious if following strict keto regime. I normally add a keto Naan.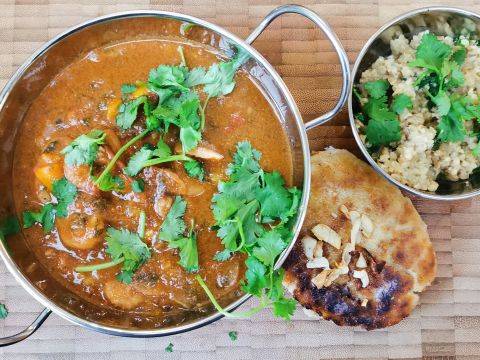 Ingredients for 4 servings
Coconut milk full fat (1 can 400g)
Coconut oil 2 tablespoons
1 medium onion
Salt 1 teaspoon
Garlic 1 tablespoon
Raw Shrimp 1.5lbs
Chopped tomatoes 400g
Garam Masala spice 3 teaspoons (5g)
Fresh Coriander 4g
Shredded coconut 1 tablespoon
Calories: 485 Kcal
Fat: 30.2g
Total Carbs: 11.4g
Fibre:2.7g
Net Carbs:8.5g
Protein:38.1g
Shake the coconut oil and open, stir until smooth then set aside


In a frying pan heat the coconut oil for about 2 minutes


Add onion and salt and cook onion until soft


Add the garlic and garam masala spice to the mixture


Pour in the chopped tomatoes and the coconut oil and gently bring up to medium high heat


Add shrimp and cook, uncovered, stirring occasionally for about 5 minutes until the shrimp is pink


Garnish with coconut flakes and coriander then serve piping hot