I have experimented for months trying to find the best recipe for a pizza base. This one is nut free and simple to make.
Add which ever toppings you wish, my photo shows my selection of traditional Italian toppings.
Be cautious of using tomato passata as the carb count can increase massively so use sparingly.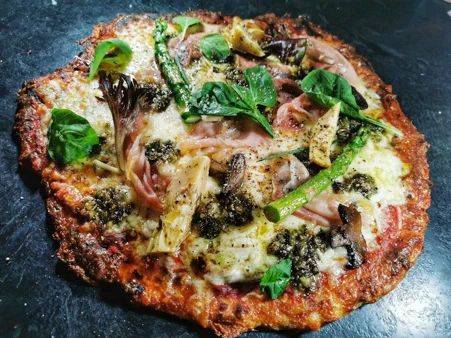 Shredded mozzarella 337g 1.5cups
Creamed cheese 2 tbsp
Egg 1
Almond flour 168g 1.5 cups
Calories: 47 calories
Fat: 3.2g
Total Carbs: 1.4g
Fibre: 0.7g
Net Carbs: 0.7g
Protein: 2.9g
Preheat the oven to 425 degrees F (218 degrees C). Line a baking sheet or pizza pan with parchment paper.


Combine the shredded mozzarella and cream cheese in a large bowl. Microwave for 90 seconds, stirring halfway through. Stir again at the end until well incorporated.


Stir in the beaten eggs and Almond flour. Form a dough ball with your hands. If the dough becomes hard before fully mixed, you can microwave for 10-15 seconds to soften it.


Spread the dough onto the lined baking pan to 1/4" or 1/3" thickness, toothpick or fork to poke lots of holes throughout the crust to prevent bubbling.


Bake for 6 minutes. Poke more holes in any places where you see bubbles forming.


Bake for 3-7 more minutes, until golden brown.