Chilli jam is the perfect accompaniment to cheese and crackers. We also like to use it on keto bread with cooked meat.
You can adapt our chilli jam recipe to make it as sweet or hot and spicy as you like! We used scotch bonnet peppers which are very hot, but you can substitute these for milder chillis for a bit less heat and you can also change the amount of erithritol to vary the sweetness.


The recipe makes make approximately ten servings and uses a 250ml sterilized-sized jar.
Ingredients for 10 servings
• 2 medium red bell peppers (238g)
• Small chopped white onion 70g
• Ginger root 5g
• Garlic 4 cloves 12g
• Tomatoes 100g
• Red wine vinegar 100ml
• Erythritol 50g
• Red Chillies 50g
• Salt ¼ tsp
• Water 70ml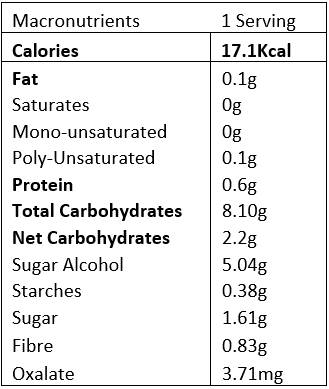 Chop the red peppers and remove the seeds.


Finely chop the ginger and crush the garlic cloves.


Remove the seeds from the chillis and chop them.


Add the tomatoes to the peppers, ginger, garlic and chillis in a food processor and blitz until well blended.


Add the water, erythritol and salt, and blend again for another minute


Add the ingredients to a large pan and bring them to the boil, before reducing the heat to a simmer.


Allow the jam to reduce, stirring occasionally, before removing it from the heat and allowing it to cool.



Put the cooled jam into an airtight mason jar, making sure it has first been sterilized.


Refrigerate and use within 1 week