Keto Chicken, Celeriac and Fennel Soup
This simple creamy chicken soup can be enjoyed all year round, it's a real winter warmer, high in protein, low in carbohydrates, loaded with good fats and moderate in Oxalate.
Celeriac is high in Potassium, Vitamin C, B6, Vitamin K, Fennel is linked to healthier skin, may be anti-inflammatory and contains high levels of selenium, which is known to benefit detoxing the liver.
Ingredients for 3 servings
• Celeriac Root 100g
• Chicken Breast 300g
• Fennel Bulb 50g
• Mustard Seeds (crushed) 2G
• Butter 28g
• Water 400Ml
• Salt ¼ tsp
• White pepper ¼ tsp
• Olive oil 27g -2tbsp
• Sesame Seeds 10g
• Tarragon dried 1 tsp
• Onion 50g
• Cream double 200ml
• Parsley (optional)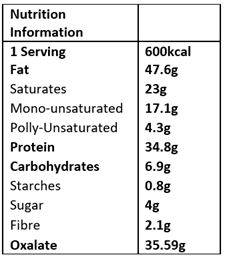 Chop chicken, celeriac, and fennel into fine pieces.


Heat the olive oil, pan fry the chicken, onion, celeriac, and fennel.


Add salt, black pepper (white for lower oxalate), and dried tarragon.


Add butter and crushed mustard seeds. Sautee for around 7 mins until cooked through.


Add water to the mix and boil for 10 minutes.


Reduce the heat and allow to simmer a further 10 minutes.


Remove from heat, slowly stir in the cream and mix well.


You can serve the soup chunky or smooth. If you'd prefer smooth, blitz the soup with a hand blender.


Serve with parsley and sprinkle with sesame seeds.