Keto Beef Shin Broth Stew
Beef shin is a perfect cut of meat specifically used for braising. Typically shin should be cooked for approximately 4 hours, so the meat is tender. The remaining juices can be drained to be used as stock or hearty meath broth.
Here we are serving as a broth stew, I have used low oxalate ingredients for those who have suffered with kidney stones, you can replace the white pepper with regular black pepper if you have no sensitivities.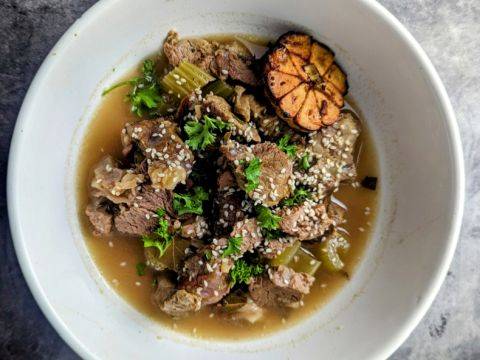 Ingredients for 3 servings
• Beef Shin 500g
• Olive Oil 1tbsp
• Onion chopped 50g
• Garlic minced 6g
• Ginger fresh grated 10g
• Mustard Powder 1.5g
• Celery chopped.100g
• Water 200ml
• Salt 1.5g
• White pepper 1.5g
• Rosemary 1tsp
• Bay leaf 1tsp
• Sesame seeds 1tsp (optional)
• Parsley (optional)
• Half a bulb of garlic, roasted (optional)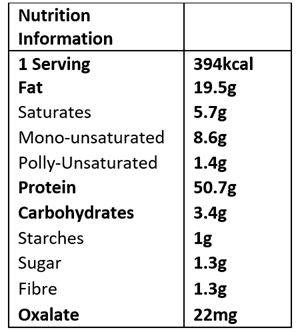 Heat the olive oil in a frying pan on a medium heat.


Prepare the beef shin by cutting into bite size pieces. Season with salt and pepper.


Chop the onion and celery. Mince the garlic and grate the ginger.


Sear the meat for approximately 5 minutes until browned.


Add the chopped vegetables and dried herbs, mustard, bay leaves, and a pinch of salt and white pepper. Stir for a further 5 minutes.


Transfer to cooking pot. Add the water and bring to boil. Reduce the heat and allow to simmer on low heat for up to 4 hours.


Use sieve to drain the solids and keep the broth juice, stirring a 1/4 teaspoon of arrowroot powder through it if you want it to thicken.


Serve the meat and vegetables with some of the broth.


Optionally, dress the stew with sesame seeds, a half a bulb of roasted garlic and parsley.


Remaining broth liquid can be stored in a sealed bottle or jar for up to 5 days.