Kofta is usually balls of meat mixed with various spices and is a food commonly served in the Middle East. Traditionally, Kofta is served with a dressing of Tzatziki (you'll find a recipe for Keto-friendly Tzatziki in the 'Sauces' section). If you are looking to lower oxalate levels, then halve the amount of spices used.
In this recipe, we use a combination of lamb and beef mince, which will give you six kofta servings.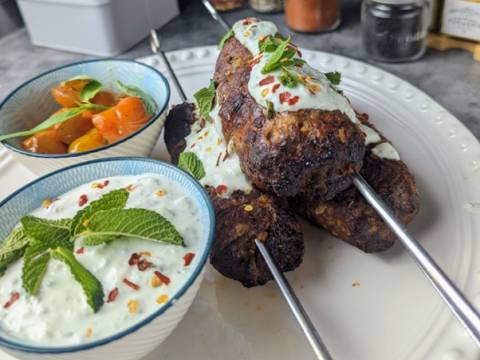 • Lamb mince 500g
• Beef Mince 500g
• Onion chopped fine 100g
• Garlic fresh 4 cloves
• Olive oil 54ml
• Oregano 2 tsp
• Cumin 2 tsp
• Cinnamon 2 tsp
• Paprika 2 tsp
• Salt 1 tsp
• Pepper 1tsp
• Parsley to dress 1 tsp
• Tomato Puree 2 tsp
• Red Pepper Cayenne 1 tsp
• Chilli flakes optional (not in macros)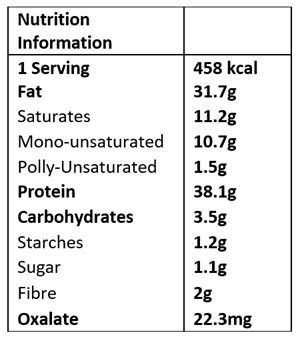 Mix all the ingredients apart from the olive until well blended. Divide into 6 balls and roll them on a board until they reach an oval shape.


Take the skewers and add the koftas.


Heat the pan until reached a decent heat, add Olive oil and cook for 4 minutes on each side.


Make sure they have sealed before you turn, or they may stick to the pan.


Dress with parsley and dip in Tzatziki (recipe in the sauces section).