Keto Chicken and Prawn Jambalaya
Jambalaya is traditionally a Cajun, American, African and french dish. This Jambalaya is normally cooked with rice and chorizo, I have made this low oxalate and low carb (Keto) so have omitted these on this recipe, The chorizo can have black pepper which is high in oxalate, I have also omitted black pepper as seasoning (optional if no focus on oxalate). White pepper has less oxalate so this is optional. This dish is also dairy free.
Some people cannot tolerate Oxalates, they can be found in leafy greens (spinach, kale), nuts and many other foods too many to go into here. If you're looking to lower your oxalate further reduce the number of spices in this dish. Dress with lemon and parsley.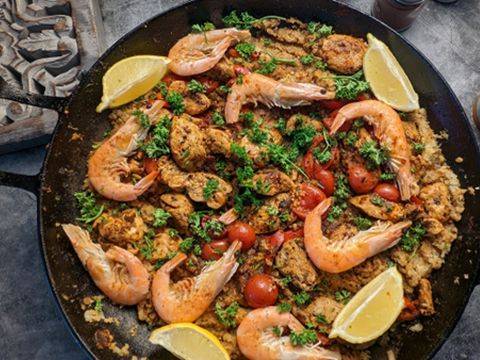 • Chicken meat 630g
• Smoked paprika 1tsp (use in moderation or omit for low Oxalate & Salicylates)
• Prawns 8 large shell on
• Salt 1 tsp
• Chilli powder 1tsp (optional reduce amount for lower Oxalate)
• Cauliflower 588g
• Bell pepper 87g
• Onion 27g
• Basil dried 1tsp
• Tinned tomatoes 180g
• Olive oil 27g
• Coconut oil 2tbsp
• Chicken broth (I add home made with no gluten or sugar )25ml
• Parsley and Lemon wedges to dress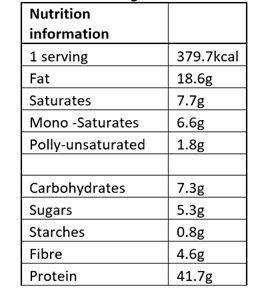 Heat a large skillet for 5 minutes until heated through.


Add olive oil, once heated add Chicken, paprika, garlic, onion, dried basil, bell pepper and the chilli powder, season with ½ tsp salt.


Cook the mix for around 8 minutes.


Add the tinned tomatoes and stir heat through.


Remove from skillet and allow to cool whilst prepping cauliflower.


Prepare the cauliflower, remove the inner stem and the leaves.


Wash and add to a food processor and blitz. Don't overdo it or will end up too fine, run until you get a rice texture


Heat the coconut oil in a skillet and add the cauliflower rice and season with ½ tsp salt.


Add the chicken broth only a touch 25ml.


Cauliflower rice will not absorb water like regular rice so be careful not to add too much.


Turn down the heat of the skillet and cook for approx. 10-12 minutes, allow broth to reduce stirring continuously. Remember the cauliflower will not absorb the water.


Add the chicken mix to the cauliflower, and arrange prawns


Dress with parsley and lemon serve hot.