Butter Roasted Cauliflower Cheese
This dish can be a side dish or a meal on its own. The combination of butter and olive oil caramelizes the florets and they taste divine.
I use a large cauliflower head; you get at least 4 steaks. Recipe below is the for one full cauliflower, macronutrient breakdown assumes that the cauliflower has been split into four, and is for one steak.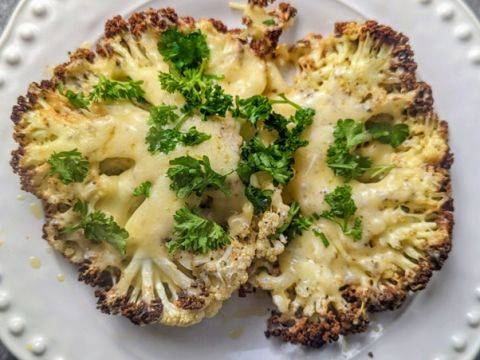 • Cauliflower Large 840g
• Cheddar cheese grated 250g
• Olive oil 1tbsp
• Salt ¼ tsp
• Pepper ¼ tsp
• Garlic powder 1tsp (optional)
• Paprika 1tsp (optional)
• Parsley 1tsp (optional)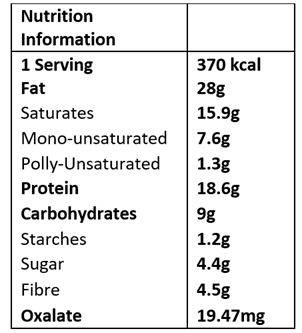 Preheat oven 190c/170 fan
Remove all the leaves of the cauliflower, then cut lengthways into 4 steaks.
Season both sides of each steak with salt, pepper, paprika (optional) and garlic powder (optional).
Melt the butter and mix it with olive oil. Brush it onto both sides of the steak..
Lay down some parchment paper and place the cauliflower steaks into oven
Roast the steaks for 10 minutes until golden brown, turn and roast for a further 10 minutes.
For the last 5 minutes sprinkle the cheese over the steak and place back in the oven.
Serve hot and dress with parsley (optional).