To find a suitable, tasty homemade keto bread can be all about trial and error until you find one you like. Personally, I don't really miss bread too much now I'm on maintenance but from time to time I like to indulge. Especially with a hot soup for dunking. Key to this is the mixture has to be runny not set like a dough. With this recipe I used my brownie baking tray to bake some mini loafs Using a large loaf tin the bread won't rise very high, keep that in mind.
Gluten free and lactose free. This recipe will make approximately 8 small loaves.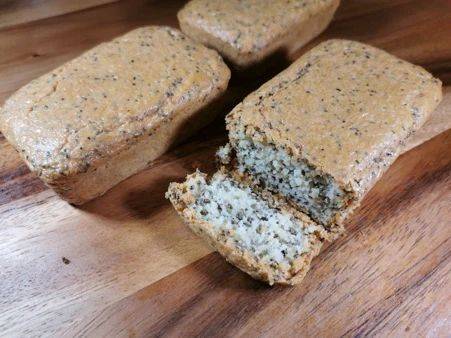 Ingredients (8 small loaves)
4 eggs
1 cup almond flour (96g)
½ Cup chia seeds (80.6g)
¼ cup almond milk (30ml)
¼ cup Coconut oil(30ml)
2 teaspoons Baking soda
½ teaspoon salt
Calories: 148 Kcal
Fat: 12.8g
Total Carbs: 5.1g
Fibre: 3.4g
Net Carbs: 1.7g
Protein: 5g
Preheat oven to 350F 177C Gas Mark 5


Grease pan and set aside


Mix ingredients in a bowl and stir until the batter is well mixed


Pour into the greased loaf pan and bake for 30 minutes


Remove and place on a rack to fully cool.