Keto Breakfast Devilled eggs with Cayenne Pepper
Nobody can resist the temptation of a sinfully delicious devilled egg.


Loaded with your own Keto mayonnaise . Add which ever toppings you like. On here I have added some chia seeds for extra fibre and sesame seeds (not included on the ingredients).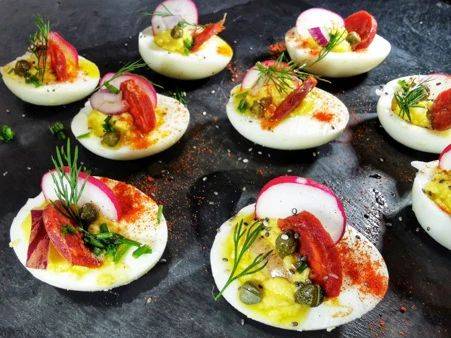 Hard Boiled eggs X 6
Dijon mustard 1 tablespoon
Mayonnaise 29 grams 1/8 cup
Dill weed 7 tablespoons
Capers 1 tablespoons
Chorizo 57g
Red onion 5 grams
Radish 3 tablespoons
Cayenne pepper 1 teaspoon
Fresh chives 6 grams
Calories: 167
Fat: 13.8g
Total Carbs: 1.6g
Fibre: 0.4g
Net Carbs: 1.2g
Protein: 9g
Put eggs into pan and bring to boil for 10 minutes


Place some ice into a bowl of cold water


Drain the eggs and put eggs in iced water. Leave to rest for 5 minutes


Peel egg shells and slice eggs in half


Scoop out the egg yolks and mix the mayonnaise into a bowl


Pipe the mixture back into the eggs


Dress with the above ingredients